As we draw closer to the new year the Yankees have been busy making moves this off season. They shocked the baseball world by trading for Giancarlo Stanton and then just one day later caught Yankee fans off guard by trading their starting third baseman and back up first baseman, Chase Headley. This has left the Yankees with two open positions for the 2018 season. Assuming that Gleyber Torres will in fact take over the duties at second base this season then that means the Yankees are still short a third baseman. Below we will go over the potential candidates.
1) Todd Frazier – Here is your most likely option. Todd Frazier was a part of the Yankee playoff run last year and was well loved by team mates and players combined. Over 66 regular season games last year Frazier batted .222 with 11 dingers and 32 runs batted in. Perhaps the most un-noticed part of his game with the Yankees in 2017 was his ability to reach base. The Todd Father put together a remarkable .365 on-base-percentage which is higher than any year he has ever had (consider though this was only a 66 game sample) but beyond that his total on-base-percentage for 2017 was .344 which was his highest OBP for a full season, ever.
There was a rumor started on Saturday that the Yankees and Frazier were close to a deal; however, a deal would probably include obstacles because you can be sure that Frazier is hesitant to sign a one year deal with a 2018 free agency class that stars Machado, Donaldson, and Beltre to just name a few. In turn the Yankees are not likely to offer anything more than a year so they can take a shot at signing Machado as a free agent in 2018-2019.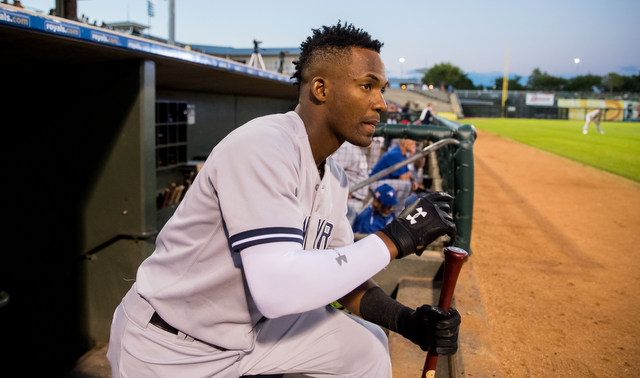 2) Miguel Andujar – Let the kid play! There will undoubtedly be a lot of people clambering for Andujar to get the job this spring. The 22 year old rookie burst onto the scene by going 3 for 4 in his major league debut with a double, walk and four runs batted in. The Yankees are understandably very high on Andujar, but even with his .571 average in the majors over 7 at bats the Yankees view his glove as a big liability still. When comparing Andujar to other players who reminds you somewhat of a younger Eduardo Nunez. Ah, yes the memories of being on the edge of your seat anytime a ball was hit Nunez's way, or the lump you would get in your throat when he would cock his arm back and unload a missile into the first base suites at Yankee Stadium, those were the days, just kidding!
Andujar will have to improve dramatically with his glove if he wants a fair shot at the third base job for 2018, and for that reason it's unlikely that he will go north to begin the 2018 season, especially considering that his glove will probably be enough to make the Yankees sign a one year insurance policy. There is no doubt in anyone's mind that Andujar will hit in the majors, he's been doing it his whole life! In 2017 Andujar batted .315 between double and triple A and hit with respectable power by going deep 16 times, knocking in 82 runs, and doubling 36 times. If the Yankees feel that no one year deal is suitable and the trade market doesn't show any promise, then Andujar will most likely be your starting third baseman.
3- Manny Machado – We can dream can't we? I mean just imagine a line up where you have to get through a meat of the order consisting of Stanton, Judge, Sanchez, and Machado. That's pretty scary considering I didn't even mention Didi or Greg Bird. There is a good chance that Machado will be a Yankee at some point even if it's not for the 2018 season. The Orioles have dangled the right handed slugger in the trade market and have been asking for offers. The Orioles will be crazy not to trade him because there is no way they will be able to match any offer that LA, or New York is going to throw his way. The Yankees moving Chase Headley and Starlin Castro further proves the point that the Yankees are serious about Machado being their future at third base.
To start the season with the Yankees, the Orioles would have to cave to the Yankees offer and be okay with trading him within in the division (which why wouldn't you if that's the best deal for your club? You already know the Yankees have the money to make the deal happen at the end of the year, so are you okay with delaying the inevitable and stunting your teams growth by not accepting the best package? And that is even if the Yankees had the best offer, but that's a different topic for a different day) but if the Yankees can indeed Machado for their price consider it done. The Yankees love Machado, and why wouldn't you? He's a perennial all-star, and gold glove award winner, but don't expect the new aged Yankees to just get caught up in the hype of adding a big name for an overwhelming contact if they feel the production isn't there. It would surprise some people to know that Machado has never had a 100 RBI season, or a 40 home run season and he has played on a team with some really good line ups. While Machado to the Yankees makes sense if they don't feel comfortable signing him to his 10 year 300-350 million dollar mega deal in the off-season then there is no chance you see him in pinstripes for 2018.
4- Mike Moustakas – Earlier yesterday Buster Olney reported that some experts have suggested that Moustakas and the Yankees make a perfect one year fit. Some people questions why Moustakas would even consider a one year deal after his exceptional season that saw him bat .272 with 38 home runs and 85 runs batted in. The fact remains that Moustakas' market has moved much slower than anticipated. He was projected to get a contract in the range of 5 years/85 million, but with each passing day it seems like his stock continues to fall, and unjustly. Olney suggests that Moustakas could accept a one year deal from the Yankees to increase his value. Moose is among the league leaders in fly ball percentage, and pull percentage. That could mean big things for abusing the right field porch at Yankee Stadium. Moustakas would get a chance to chase a ring, and put up video game numbers all while increasing his value, and if he had a great season he would find himself in a prime position in the 2018 draft class even with Machado, Donaldson, and Beltre in it though Machado would cover the headlines in 2018, Moustakas could have arguably the best numbers out of all of the players with the short right field porch.
He could further increase his stock by not only putting together a monster season, but helping the Yankees win a Championship, and if the Yankees thought he was a better value than Machado, he could even find himself with a long term deal in the Bronx. The idea of adding Moustakas on a one year deal is probably much more likely than the Yankees spending prized prospects on a player that is one year away from being a free agent. The problem of Moustakas also being tied to draft pick compensation is another potential hurdle, with the new compensation rules the Yankees would lose their second, and fifth highest picks in the upcoming draft as well as $1,000,000 in international bonus money so the Yankees would have to ask themselves how much they wanted Moustakas in 2018. Do they think he is the thing that would push them to a World Series in 2018? If so, then the Yankees should do it. They currently have a really strong farm system and a lot of international pool money at their disposal. The Yankees are always win first at all costs, so if Moustakas is open to a one year deal don't expect the Yankees to sit idle fearing what they would be losing.
5- Eduardo Nunez – Queue the Michael Kay "Oh No" audio on your soundboard. Let's take a trip down memory lane of Nunez's defensive gaffe's in his 4 seasons with the Yankes…. okay, that's enough. Eduardo Nunez has made our list in part for his versatility in the field along with relatively cheap cost that would be appealing to the Yankees. Nunez and Torres could rotate positions and give Didi days off as well. The 30-year-old who has been out of the Yankee organization now for 3, going on 4 years had a really strong 2017 that saw him bat .313 with 12 homers and 58 runs batted in, in just 114 games. Nunez split time between the Giants and the Red Sox this season and performed well in his role with both teams.
Nunez was projected by MLB Trade Rumors to get a deal somewhere near 2 years and 14 million; however, as we previously noted with Moustakas the third base market has been cold this off season and that could open the door to Nunez teaming back up with the Yankees in 2017. Due to his versatility in the field the Yankees could use an infield of Nunez, Torres, and still have Andujar on the roster to split time between third and at DH. Nunez also isn't protected by a qualifying offer and therefore would not cost the Yankees any draft picks, or international pool money which is definitely appealing; however, the only way that this deal gets done is if Nunez would be open to a potential one year deal with a club option, and even if he was the Yankees may still prefer Moustakas over him if they are able to grab Moustakas on a one year deal.
Nunez definitely makes sense though because the Yankees love guys who are able to play multiple positions and give them a variety of options to get them in the line up. Even though Nunez is able to play multiple positions, does that really mean he can play multiple positions? No, in fact he is so bad defensively that he may be considered the worst defender of all time, seriously! In 600 innings at shortstop with the Yankees, Nunez somehow cost the Yankees more runs than any shortstop ever in reality. He was on pace to cost the Yankees FORTY runs in 1,000 innings at short stop. To give you an idea of how many runs that really is, Jeter, who was not considered "a great fielder" only cost the Yankees 15 runs per 1,000 innings. That means that Nunez gave away almost three times as many runs as Jeter did in the field. The worst season at short stop ever, outside of Nunez's 2013 season was Michael Young who cost his team 20.4 runs over a 1,000 inning span in 2005. That means that not only was Nunez the worst defensive short stop, he was worse by a wide margin. In fact, on plays that are considered "non-routine" plays that are less than 90% chance of being made Nunez only converted 15% of those plays compared to the league average of nearly 50% so even though Nunez makes sense offensively, and with the payroll it wouldn't make much sense to slide Nunez in ahead of Andujar at this point.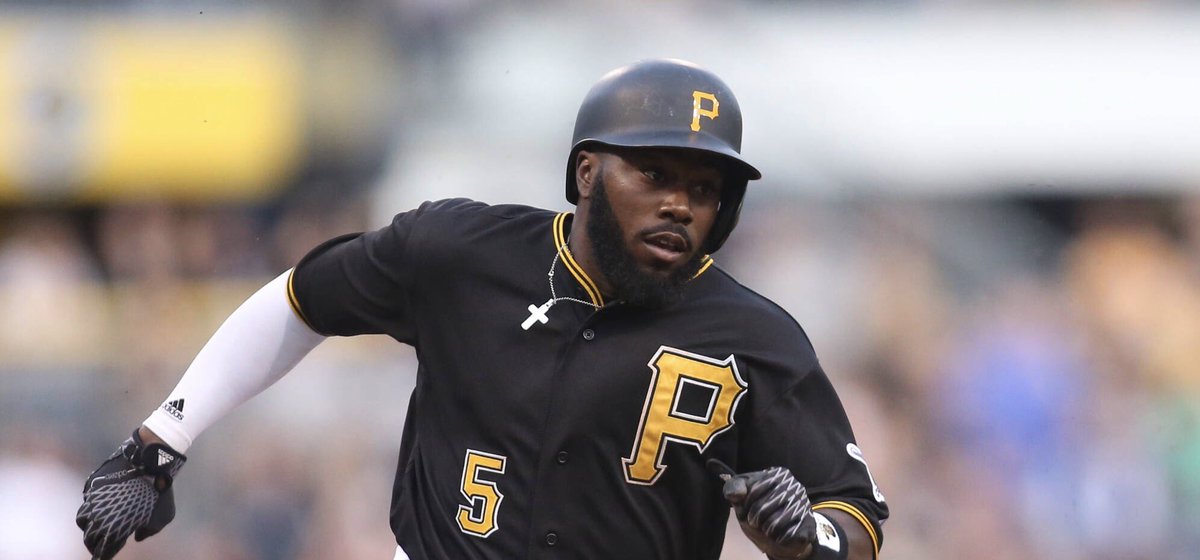 6- Josh Harrison – Perhaps the most interesting player on our list. The Yankees could target Pirates utility player Josh Harrison. Harrison has one year left on his contract before he can be bought out of his contract for 1 million (though that probably wouldn't make sense since Harrison plays above his 10 million dollar annual salary. He batted .272 with 16 home runs and 47 runs batted in while being able to play almost every position outside of catcher, and center field. He would provide the Yankees with a gritty, win now attitude and veteran presence that they would be looking for. His contact is also very manageable and could fit into the Yankees plans with his defensive versatility. This is pure speculation, but with the Pirates interested in moving Cole the Yankees may be able to make the move and throw Harrison in the deal along with them. Harrison would provide versatility while allowing Andujar, and Torres time to develop.
7- Alex Rodriguez – Got ya! Just kidding. We are fairly certain that Alex Rodriguez doesn't fit into the Yankees plans for 2018…. we hope.
So with that being said who is the most likely candidate to get the job in 2018? With Frazier looking like he will most likely be looking for a one year deal and the fact that he was so well received in New York in 2017 he is our pick as the most likely option to start the season as the Yankees starting third baseman. What're your thoughts? Who would you like to see start the season at third this year?
Please subscribe for our email letter at the bottom of our web page! Also follow us on Twitter @diehard_nyy and on Facebook at Facebook.com/diehardnyy 
Subscriptions help us grow and continue to bring you the latest in Yankee news! We are site composed of all die hard Yankees fans, reporting to die hard Yankees fans.