The Yankees and Pirates have been in ongoing talks regarding Gerrit Cole and it seems as though trade talks are still going on as the Yankees try to add another starter, but it has now been revealed by IBN Sports Wrap that the Yankees are indeed looking to package Josh Harrison and Gerrit Cole together as we suggested a week ago. While the Yankees could use both Harrison and Cole for 2018, the Pirates asking price seems to be a bit high as the Pirates asked the Yankees for Clint Frazier, Chance Adams, and Miguel Andujar in return for Cole and Harrison. The Yankees are reportedly waiting for the price to come down a bit and they are hoping they can shed one bullpen contract in the deal.
Let's go ahead and break down this potential deal. The Yankees have tried multiple times to acquire Gerrit Cole and at this point it almost seems it will be destined to happen at some point. The Yankees could obviously use another starter as they lack depth in major league ready pitching, and could use a consistent front of the line to middle pitcher, but is Gerrit Cole really necessary at this point? In a rotation that consists of Luis Severino, Sonny Gray, Masahiro Tanka, CC Sabathia, and Jordan Montgomery with Chance Adams and Justus Sheffield sitting in the minors waiting for their chance one must ask themselves is it worth trading away such a strong class of prospect for Cole in particular?
Over 203 innings last year, Cole put together a very mediocre 4.26 ERA in the national league, and was able to just muster a 3.88 the season prior. He was hurt in large part in 2017 by the long ball, surrendering 31 home runs. Yankee Stadium is obviously a hitter friendly park, and a pitcher coming off a year where he surrendered a career high 31 home runs, and doubled his home run per 9 innings career rate is a bit concerning. Beyond that, Cole has just never been that good. In 2015 he put together a great season with a sparkling 2.60 ERA over 208 innings pitched, while only allowing 183 hits and striking out nearly a batter an inning.
Since 2015 Cole has struggled to find the same success he enjoyed in 2015, but that doesn't mean that he lacks the stuff to be a top of the line pitcher. Cole made a career high 33 starts last year pitching 203 innings and he never lost any velocity. He maintained his velocity throughout the workload he had this season and the 27 year old has never seen his velocity dip in his pro career. Cole has stayed between 95-96 MPH average fastball throughout his entire big league career. There is no doubt that Gerrit Cole has ace like stuff, don't believe me? Check this highlight out below of him making Mike Trout look foolish in the 2015 all-star game:
Cole has never reached his potential through his 5 year career and the Yankees could be looking to cash in on the opportunity to rejuvenate his career. Cole was the first pick in the 2011 draft and by the time he debuted in the 2013 season he was a baseball america top 100 prospect. In 2017 Cole tried to start incorporating his change up in more counts, using the pitch 13.4% as opposed to 7.5% the year before and the pitch wasn't particularly effective for him. Most of the damage done against Cole this season was on off speed pitches that hung over the middle of the plate. The Yankees may be looking to get him back to what he is best at: hard fastball, hard sinker, wipe out slider. Sometimes the best way to bring someone out of their struggles are by simplifying their approach. Cole has a hard fastball with a strong spin rate which makes the ball appear to get out of his hand faster than it actually is. Cole isn't a terrible piece to try and get, but for the right price and based on results and not stature.
One week ago we suggested that the Yankees should look into packaging Josh Harrison together in a deal for Gerrit Cole and lo and behold, it looks like that could potentially be the plan. Harrison would be a great pick up for the Yankees. He reminds you of a Yankee from the 90's dynasty that would do whatever it takes to win, like when he somehow managed to pull off this run down beauty:
Harrison is owed 10 million for the upcoming season and then he has a club option that can be bought out for just 1 million the following year. Although the idea of buying out Harrison's team friendly 10 million dollar deal is a bit insane. Harrison's greatness goes beyond his numbers. He is a grinder and a someone who will do whatever it takes to get the job done. He can play pretty much any position on the field which makes him someone that you could use in your long term plans even if Torres pans out and the Yankees sign a third baseman such as Machado. Players that are able to play close to average defense at multiple positions while maintaining a strong bat are a hard commodity to find and the Yankees could wrap it up here by grabbing Harrison.
The 2017 season proved to be a typical season for the 30 year old utility player. He batted .272, going deep 16 times, knocking in 47 runs and more importantly holding onto a .339 on-base-percentage. Harrison grinds out at-bats and if he is in a line up where he is protected by the likes of Aaron Judge, Giancarlo Stanton, Gary Sanchez, Greg Bird, Didi Gregorious, and company you would imagine that he would put together a great season. Harrison would be a great combo with Gardner to help get on base. The Yankees will obviously hit a lot of home runs this season, but it helps to have people on base when you hit those home runs and Harrison would be a great addition to help get on base for the big sluggers in the middle of the line up.
Moving forward Harrison would undoubtedly fit in the Yankees plans of the future as a veteran that can play any position. He could rotate infield positions and give people days off, he could be your super utility guy that plays a different position almost daily to give people a blow. The Yankees also figure to have an open DH spot for years to come and he could grab some at-bats in the DH role from time to time as well. Harrison to the Yankees makes a lot of sense and it gives the Yankees a great amount of flexibility moving forward with Torres and other potential free agents.
Unfortunately we figured that red thunder would have to be involved in any deal that brought Cole back to the Bronx and that is OK but it would be tough to send red thunder away after he showed glimpses of greatness with a lightning quick bat and his big personality, but at the end of the day Frazier did only bat .231 with an on-base-percentage of .268 and with the amount of outfield depth that the Yankees have that makes Frazier expendable.
Speaking of another expendable piece, enter Yankees third base prospect, Miguel Andujar who is the other piece that makes up this deal. Andujar is a hitter, plain and simple the guy can hit. His glove on the other hand, is a different story. After batting .317 between double and triple A this season, Andujar is knocking on the door to the majors and if his glove was reliable he may have been the Yankees every day guy last year as opposed to Todd Frazier. Andujar burst onto the scene by knocking in four runs in his MLB debut
Andujar will most likely hit at the major league level with quite a bit of success, but with the doubt of his glove ever coming around and the fact that the Yankees have money to spend with the best third base free agency class to ever hit the market, Andujar has found himself in the wrong place, at the wrong time. There is simply no spot on the roster for him and so a deal that would send him to the Pirates to return someone like Josh Harrison and Gerrit Cole is totally worth it. The Yankees get a super utility guy and a pitcher with a high ceiling and the Pirates get an outfielder that is a 5 tool player and has the potential to be a star, and they get a third baseman who almost undoubtedly will abuse major league pitching at the ripe age of 22 years old.
This is where this deal becomes a bit complex. It is also being reported that for the deal to happen that the Pirates would also need Chance Adams in return for the all-star package. Adams has shot up through the Yankee system after being drafted in the fifth round in the 2015 MLB draft as a reliever. The Yankees felt that he profiled better as a starter than he did out of the bullpen, and boy were they right. Adams put on a show allowing just 35 hits over 69.2 innings pitched in AA in 2016 while striking out a batter per inning and allowing just 24 free passes giving him a WHIP of 0.85.
At this point in the trade it begins to feel like you're over paying for the package from the Pirates. Frazier and Andujar are a pair of the best prospects in a loaded Yankee farm system, but to give up another top prospect one has to wonder if it would be better to hold onto your farm guys and just address your needs in the star studded free agency class of 2018-2019. The Pirates will be motivated sellers though which makes it likely that the asking price for this package can be brought down a bit.
One last aspect of this trade is that the Yankees are looking to shed one of their bullpen contracts which may very well be a part of this deal, so look out Yankee bullpen members (yes, we are looking at you Adam Warren, Dellin Betances, and David Robertson) I predict that by the seasons start the Yankees will have eliminated one of those three bullpen pitchers and Jacoby Ellsbury from the roster.
The only question that remains in regards to shedding a bullpen pitcher is why you want to weaken your strongest asset. The Yankees loaded bullpen was a path for them to win many games last year and being able to turn to a star cast of Tommy Khanle, Aroldis Chapman, David Robertson, Chad Green, Adam Warren, and Dellin Betances is pretty tempting. Of the bullpen arms that the Yankees could shed it would be most likely that they would trade Betances who has the most upside, but also has lacked consistency as a Yankee and not pitched well down the stretch at any point in his career.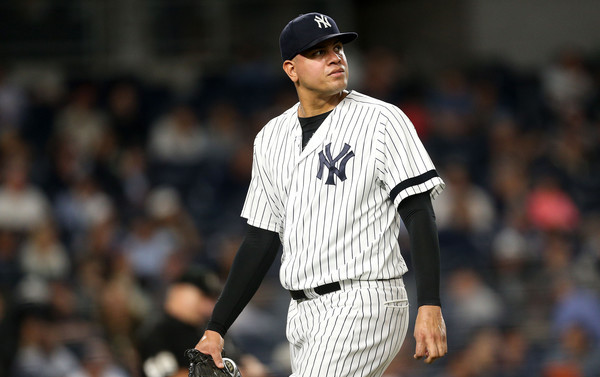 The Yankees are probably looking forward to a season where they could use a few of their power arms they have in their farm system as relievers. One would figure that Domingo Acevedo could be a strong candidate to go north with the team because of his over powering fastball and sharp breaking pitches. This would free up a couple extra million dollars and provide a path to the bigs for other pitchers that are waiting for their opportunity.
At the end of the day the trade would look like this, if it went through right now
Pirates Get:
Chance Adams, Miguel Andujar, Clint Frazier, one of the following bullpen pitchers Dellin Betances/Adam Warren/David Robertson
Yankees Get:
Gerrit Cole, Josh Harrison
It would behoove the Yankees not to take the opportunity to add both of these players to their roster at the right price, but from looking at the price that the Yankees would have pay currently, the Yankees would need to either be able to move either Chance Adams, or Andujar out of the deal and replace them with a lower tier prospect and possibly gain back some extra international bonus pool money in the deal.
Should this deal really begin to take shape and gain traction don't be surprised to see a third team jump in and work a deal out for the bullpen pitcher, this could potentially give the Pirates the little extra they need to save a little more of that Yankee farm system while still being able to pull back Gerrit Cole and Josh Harrison.
The deal makes sense and if it went through it wouldn't entirely be one sided either direction, but if the Yankees continue to wait on the Pirates one would figure that the asking price would get down to where the Yankees felt comfortable to pull the trigger on the deal.
Please subscribe for our email letter at the bottom of our web page! Also follow us on Twitter @diehard_nyy and on Facebook at Facebook.com/diehardnyy 
Subscriptions help us grow and continue to bring you the latest in Yankee news! We are site composed of all die hard Yankees fans, reporting to die hard Yankees fans.